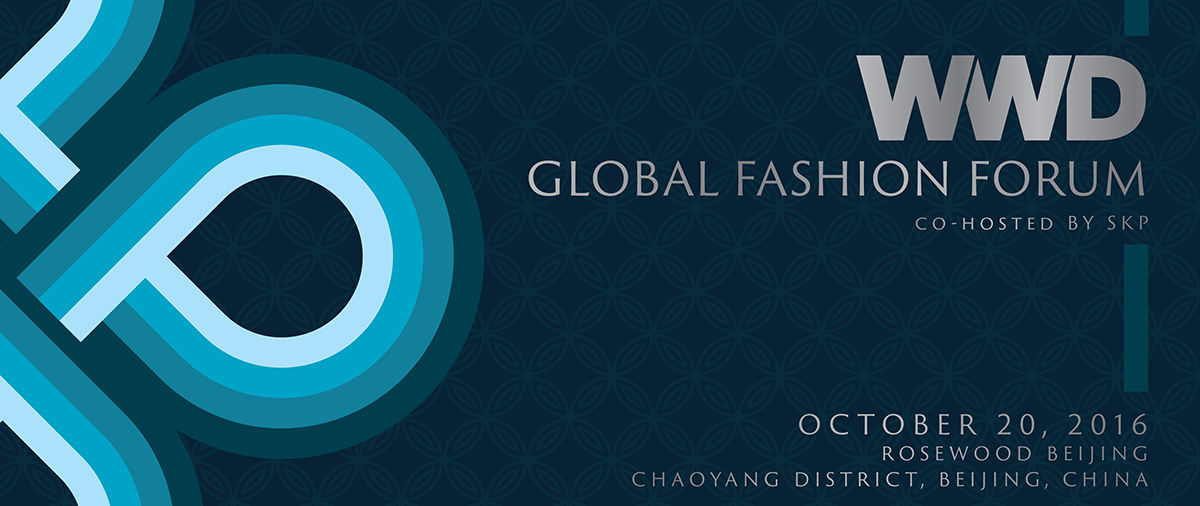 PLEASE NOTE : 2016 PAST EVENT INFORMATION // 2017 TO BE POSTED SHORTLY
The WWD Global Fashion Forum, October 20, 2016, at the Rosewood in Beijing, will bring together 200 influential brand and retail executives across Asia, Europe and the Americas to explore the dynamic forces that are shaping the future of retail. This one-day program, WWD's first in Asia, will focus on global peer-to-peer idea sharing and networking. Curated by the editors of WWD, key topics will include:
Fashion Economy – new geographies, demographics, and psychographics
Consumer Expectations – traveling consumer, digital consumer, social consumer, conscious consumer, and "experience" consumer
Retail Experience – seamless customer journey, physical spaces reimagined, online omnipresence, and customer service redefined
Brand Exclusivity –local identity, individuality, authenticity, and sustainability
Design Eclecticism – design diversity within established fashion houses, emerging design talent in new markets, micro niche influences, and luxury reimagined
This event is invitation only. If you are interested please request an invite below.
What we're talking about
Digital

Social

Omnichannel

Fashion Economy

Emerging Talent

Consumer Expectations

Retail Experience

Customer Service

Brand Exclusivity

Design Eclecticism

Brand Identity
Who Is Speaking?
Tory Burch

Tory Burch LLC

Paolo De Cesare

Printemps

Pierre Denis

Jimmy Choo

Tom Doctoroff

J. Walter Thompson Asia Pacific

Laure Heriard Dubreuil

The Webster

Tommy Hilfiger

The Tommy Hilfiger Group

Sung-Joo Kim

Sungjoo Group & MCM Holding AG

Feng Lu

Peking University

Victor Luis

Coach Inc.

Jiang Qiong Er

Shang Xia

Remo Ruffini

MONCLER

Andrew Wu

LVMH
Sponsorship opportunities provide direct access to the most influential executives in the industry through high-profile brand visibility and interaction, plus targeted networking. Sponsorship opportunities are limited and can be highly customized to meet your marketing objectives.
For more information on sponsoring, please contact Amanda Smith at asmith@fairchildfashion.com